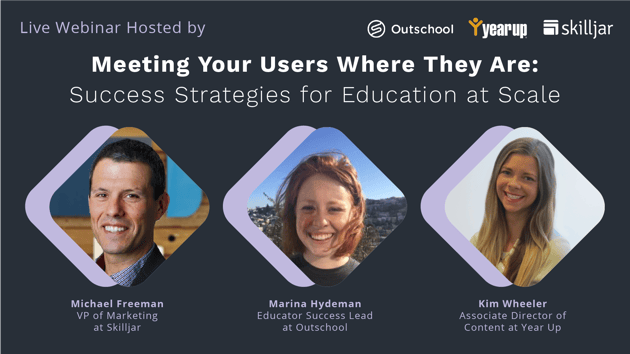 Every organization wants to set their users up for success. Some are finding unique ways to scale quickly in order to provide personalized onboarding and education - meeting a wide range of users where, when, and how they prefer to be reached. And in the process, they are uncovering new and exciting ways to provide value.

View the recording for a lively conversation featuring Marina Hydeman, Educator Success Lead at Outschool, and Kim Wheeler, Associate Director of Marketing at Year Up, to hear how two different organizations used technology to transform their manual processes for education, onboarding, training, and professional development, in order to meet urgent user needs in 2021.

Hosted by Michael Freeman, VP Marketing, Skilljar, this conversation will show you how to:
Find a solution that lets you quickly streamline and scale your user training and education
Gain new insights and visibility into your users' needs and how to best meet them
Customize content for onboarding and education according to user categories you define
Integrate with other solutions (including Salesforce, Marketo, HubSpot, and more) to leverage automated processes for reaching users and tracking their preferences.
Create strong user relationships faster and with less burden on your staff resources
Register now to view the on-demand recording.