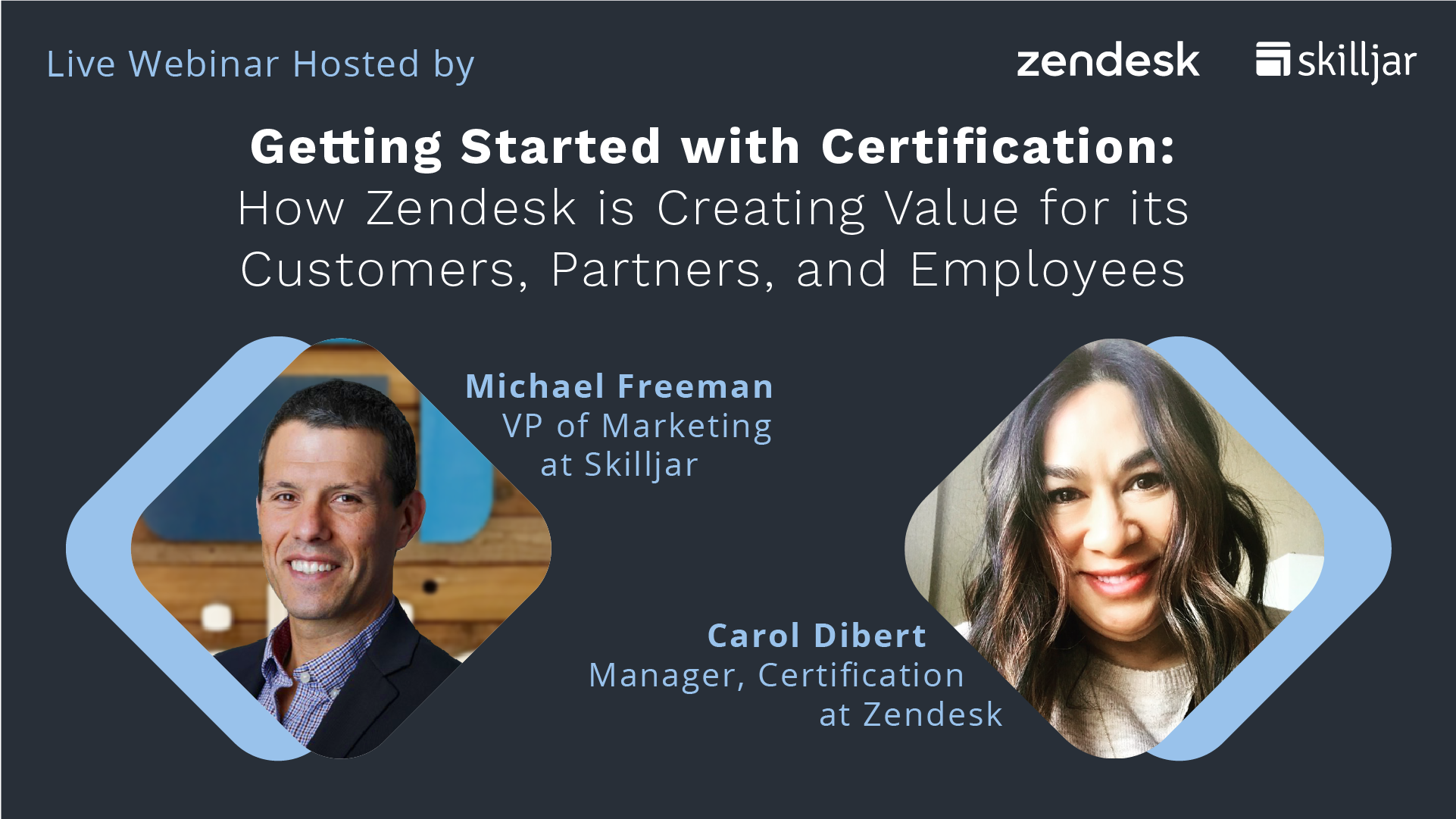 Online certification can get a bad rap. If you think online professional certifications are only useful for compliance and workplace harassment training, we have a webinar for you! Online professional certification programs, such as those offered by Salesforce, Cisco, and Zendesk, have taken on new meaning in the past year of working -- and learning -- virtually.
Online certification isn't just good for the student, it's good for the company issuing them as well. Carol Dibert, Manager of Certification at Zendesk, a leading provider of customer success software, sees a three-pronged value proposition for online professional certification:
For companies who need to prove their worth in the market to stakeholders and extend their reach with a certified partner network
For companies who want to set their own staff apart from the competition as subject matter experts
For the job seeker or employee who want to excel in any area for which certification is available
If your company is looking for ways to increase its value in the market, and the value of its own Customer Success and Technical teams, and/or Partner Networks, offering online certification programs could prove enormously beneficial.
In our upcoming webinar, "Getting Started with Certification: How Zendesk is Creating Value for its Customers, Partners, and Employees," Carol Dibert, Manager of Certifications for Zendesk will share:
Why offering online professional certifications was a natural choice for Zendesk
Why online professional certification is so much more than basic annual trainings in a post-pandemic environment
3 things any organization looking to offer certifications should consider
How to get started with planning and offering certifications
Why having a seamless experience (i.e., "one stop shop") for offering certifications is key
How integrations with multiple education platforms can come together to create an optimal certification rollout
The different components of a successful certification program including course development, test creation and administration, proctoring, badging, talent directories, and more
When in an organization's life cycle is the optimal time to offer certification
Whether you're looking to establish your company as an industry thought leader, find qualified employees or partners, or create customer success, technical experts, or product specialists, this webinar is a must-attend for anyone looking to maximize the value of online certification as part of its growth trajectory.
Fill out the form to also see the full Q&A from the session!
Integrated apps mentioned in this webinar: